The AMT 
Automag 3 (III)
 is a single action semi-automatic handgun, designed by Harry Sanford, creator of the first Automag. The
Automag III
does not actually fire a magnum cartridge, but is chambered for the .30 Carbine cartridge originally designed for the World War II era M1 carbine. It was also originally chambered for the 9mm Winchester Magnum cartridge. Only the original AMT production pistols were made in 9mm Winchester Magnum; later Galena production was only in .30 Carbine.
 It is made of stainless steel and has an 8-round magazine
AMT automag iii for sale .30 carbine With Box 30 cal
Manufacturer           AMT
Model                       Automag
Caliber                   .30 Carbine
Magazine                 
3
Round                      8-round capacity
Manufatured          USA
This pistol whose action is based on John Browning's tilting barrel locking system is one of the first semi-autos chambered for the .30 Carbine cartridge. The magazine release button is located on the left side of the frame just behind the trigger. The slide mounted safety simply blocks the firing pin whether the gun is cocked or not and does not lock the trigger.
About the Manufacturer:
Arcadia Machine & Tool, or AMT, was a firearms manufacturer from Irwindale, California that produced a line of pistols using the name AutoMag from 1982 to 1995. These semi-automatic pistols carried a name similar to the sole pistol model that the defunct Auto-Mag Coproration had previously produced. But, there is no connection other than the name similarity. AMT did not fare well in business and eventually went bankrupt. AMT's assets and trademark were acquired by IAI (Irwindale Arms Incorporated). Later, in 1998, Galena Industries of Sturgis, South Dakota purchased the company and produced firearms in the style of AMT's until 2001. They were finally acquired by the High Standard Manufacturing Company of Houston, Texas. High Standard still produces various models under the AMT brand, based on original AMT designs.Update: In May of 2018 High Standard Manufacturing closed its doors and is no longer in business.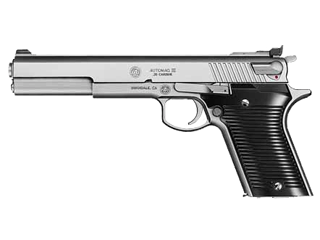 suppressedballistics.com offers sales on Automag 3 in stock and no Back order.
Our Price for this amt automag iii for sale
AMT Automag III .30 carbine With Box 30 cal